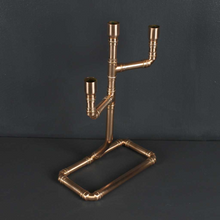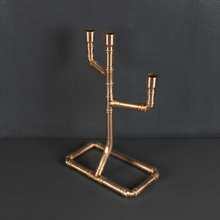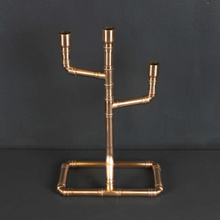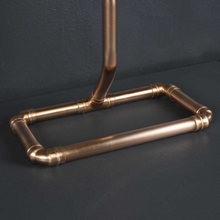 A simple yet elegant Copper Candelabra. It has been handmade using mostly reclaimed and recycled plumbing pipe and fittings. All joints are soldered and the copper is hand polished to a natural finish that will age and develop character over time.  It would make an excellent gift or wedding present or a perfect center piece to your table setting.
Specification
15mm and 22mm copper pipe and fittings. As it is handmade the dimensions may vary slightly but never more than a few mm! The connection for the candle is 22mm in diameter which will take almost all standard or tapered dinner candles. There are 3 white candles included.
Measurements:
210 mm wide
320 mm high
110 mm deep
O'Donnell Boutique aim to handle all online orders as quickly and efficiently as possible. However, please note that some orders may take longer than others as we do not ship on Saturdays, Sundays, or holidays. 

We reserve the right to delay shipment for 2 days for security reasons. We also reserve the right to cancel orders without any explanation if there is suspicion of fraudulent activity surrounding the method of payment. O'Donnell Boutique is not responsible for delays in customs clearance. 

Standard shipping costs are charged by O'Donnell Boutique based on location and we do not apply additional charges based on amount of items purchased. 
 
| | | |
| --- | --- | --- |
| Country | Standard Price | Time |
| Ireland | FREE | Please allow 5 - 7 working days |
| Europe  | €15 | Please allow up to 10 working days |
| USA | €20 | Please allow up to 10 working days |
| Rest of World | €20 | Please allow up to 10 working days |
| | | |