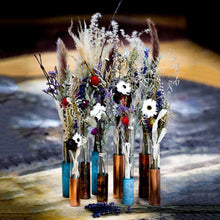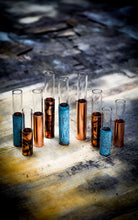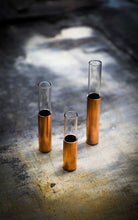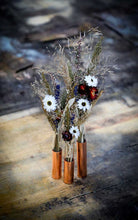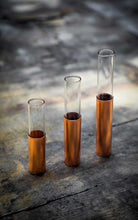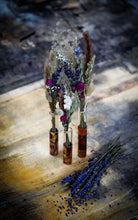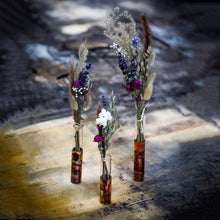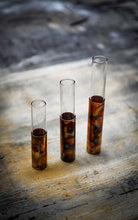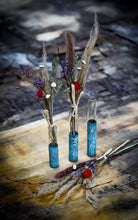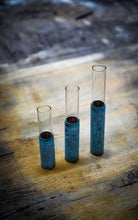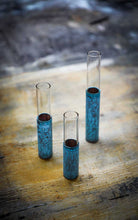 Introducing our new range of copper flower/bud vases. Each vase is made from a piece of recycled copper and glass test tubes that are salvaged from an old medical laboratory. Making these pieces 100% recycled!
Plain Copper:
The copper has been hand polished back to its natural state and then further polished to a high shine finish. The finish will change and develop over time taking on new characteristics of its environment and adding a note of interest over its lifetime.
Marbled Copper:
The copper has been heat treated with a blow torch to a very specific point where this beautiful marbling effect becomes apparent. It is then quenched to lock in this beautiful marbled finish. Due to the process each piece comes out with a totally unique finish.

Patina Copper:
The copper has been treated with household products to develop a blue/green patina over time. The finish is very delicate and may flake off if handled excessively. The colour may change and deepen or lighten over time depending on the environment. Again each piece will develop a truly unique finish!
The vases are perfect for both dried and fresh flowers and are watertight if watering is required. They also come with a natural cork stopper which expands the function in a number of directions. They can be used to store dried fragrant buds like lavender pods and opened when required or even to encase a note or wedding favour. The possibilities are endless!

Regardless of which finish you chose we are sure that they will make an excellent gift or wedding present or a perfect center piece to your table setting.
(Flowers not included!)

Specification
Made using recycled 22mm copper pipe and recycled laboratory grade borosilicate glass test tube. As it is handmade the dimensions may vary slightly but never more than a few mm! Each test tube comes with a natural cork stopper also.

Measurements:
All test tubes are 20mm diameter
Small: 100mm high
Medium: 125mm high
Large: 150mm high

| | |
| --- | --- |
| Type: | |
| Vendor: | |
| Style: | Plain Copper, Marbled Copper, Patina Copper |
| SKU: | flower vase set |
O'Donnell Boutique aim to handle all online orders as quickly and efficiently as possible. However, please note that some orders may take longer than others as we do not ship on Saturdays, Sundays, or holidays. 

We reserve the right to delay shipment for 2 days for security reasons. We also reserve the right to cancel orders without any explanation if there is suspicion of fraudulent activity surrounding the method of payment. O'Donnell Boutique is not responsible for delays in customs clearance. 

Standard shipping costs are charged by O'Donnell Boutique based on location and we do not apply additional charges based on amount of items purchased. 
 
| | | |
| --- | --- | --- |
| Country | Standard Price | Time |
| Ireland | FREE | Please allow 5 - 7 working days |
| Europe  | €15 | Please allow up to 10 working days |
| USA | €20 | Please allow up to 10 working days |
| Rest of World | €20 | Please allow up to 10 working days |
| | | |