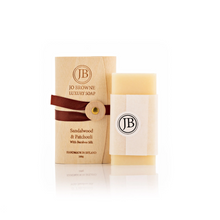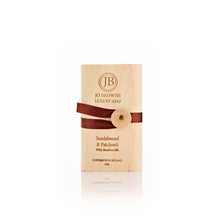 The nourishing soap contains exquisite plant oils and is saponified by hand. A very mild formula that cleanses and conditions the skin.
Sandalwood & Earthy Patchoulli
Vegan and Palm Free
100g
Ingredients
Sodium Olivate Sodium Cocoate Aqua (Water) Butyrospermum Parkii (Shea) Butter Sodium Castorate Sodium Sunflower Seed Amphoacetate Sodium Cocoa Butterate (saponified cocoa butter) Citral [1] Eugenol [1] Limonene [1] Linalool [1] bamboo silk
O'Donnell Boutique aim to handle all online orders as quickly and efficiently as possible. However, please note that some orders may take longer than others as we do not ship on Saturdays, Sundays, or holidays. 

We reserve the right to delay shipment for 2 days for security reasons. We also reserve the right to cancel orders without any explanation if there is suspicion of fraudulent activity surrounding the method of payment. O'Donnell Boutique is not responsible for delays in customs clearance. 

Standard shipping costs are charged by O'Donnell Boutique based on location and we do not apply additional charges based on amount of items purchased. 
 
| | | |
| --- | --- | --- |
| Country | Standard Price | Time |
| Ireland | FREE | Please allow 5 - 7 working days |
| Europe  | €15 | Please allow up to 10 working days |
| USA | €20 | Please allow up to 10 working days |
| Rest of World | €20 | Please allow up to 10 working days |
| | | |