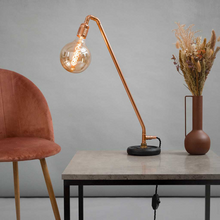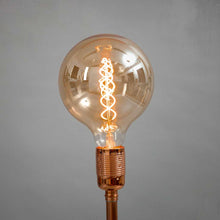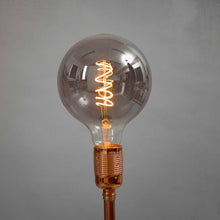 Table lamp No. 015 in the Tesla collection adds a real element of interest to a table lamp. Looking at it you think how is it not falling over?! The clever use of a 2.5 kg cast iron weight plate is the secret! A perfect lamp for work or study areas or even as a statement piece in your space.
It uses an old 2.5 kg weight plate from a barbell weightlifting set which was purchased from a local buy and sell app. This gives it the perfect grounding to accentuate the beautiful form of the copper pipes above.
The copper pipe used is salvaged from the heating and plumbing and renewable sector in Ireland and over 75% of the material used has been recycled.
The clever design incorporates a dimmer switch which unlocks the true potential of the exposed LED bulb of which there are 2 options available. It can be dimmed from a low to high setting with ease which gives the lamp real functionality meaning it can be used in a multitude of settings. Its larger size makes it perfect for bedside lockers, sideboards, hall tables and coffee tables.
This lamp is a real conversation piece and will not only lighten up your space with a delicate and ambient tone but will also add a quirky and artistic note.
Specification
2.5 kg cast iron barbell weight plate
15mm reclaimed copper pipe
As it is handmade the dimensions may vary slightly but never more than a few mm! There are 2 bulbs to choose from in the drop-down menu.

Measurements:
300mm wide
550mm high
125mm deep
Electrical:
All components are CE certified
0.75mm2 black twisted braided 3 core cable
Inline dimmer switch 220-240V
Copper effect lamp holder c/w cord grip
125mm E27 LED Bulb (2 Options)
UK 3 pin plug c/w 3 amp fuse
Fully earthed and electrically tested
| | |
| --- | --- |
| Type: | |
| Vendor: | |
| Bulb Options: | Large Round LED Amber Finish, Large Round LED Smoky Finish |
| SKU: | Table Lamp N.o 015 |
O'Donnell Boutique aim to handle all online orders as quickly and efficiently as possible. However, please note that some orders may take longer than others as we do not ship on Saturdays, Sundays, or holidays. 

We reserve the right to delay shipment for 2 days for security reasons. We also reserve the right to cancel orders without any explanation if there is suspicion of fraudulent activity surrounding the method of payment. O'Donnell Boutique is not responsible for delays in customs clearance. 

Standard shipping costs are charged by O'Donnell Boutique based on location and we do not apply additional charges based on amount of items purchased. 
 
| | | |
| --- | --- | --- |
| Country | Standard Price | Time |
| Ireland | FREE | Please allow 5 - 7 working days |
| Europe  | €15 | Please allow up to 10 working days |
| USA | €20 | Please allow up to 10 working days |
| Rest of World | €20 | Please allow up to 10 working days |
| | | |