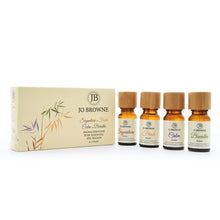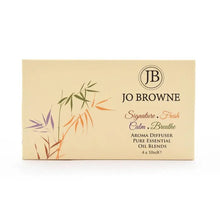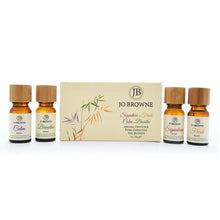 Contain 4 x 10ml blends for Aroma Diffusers
Blends Include:
Fresh – Citrus scent to awaken you and freshen your home using a blend of essential oils, including Lemon, Lime, Bergamot, Pine, and White Camphor.
Signature – Blend the purest essential oils, including Bergamot, Neroli, Palmarosa, and Rosemary, to destress, calm the mind, uplift and brighten your mood, reduce anxiety and helps to reduce anger.
Calm – De-stress and bring calm to your mind using a blend of essential oils, including Rose, Sandalwood, Jasmine, Basil, and Roman Chamomile.
Breathe – Breathe easy with anti-fungal and anti-bacterial properties using a blend of essential oils, including Thyme, Peppermint, Black Spruce, Clary Sage, and Eucalyptus.
O'Donnell Boutique aim to handle all online orders as quickly and efficiently as possible. However, please note that some orders may take longer than others as we do not ship on Saturdays, Sundays, or holidays. 

We reserve the right to delay shipment for 2 days for security reasons. We also reserve the right to cancel orders without any explanation if there is suspicion of fraudulent activity surrounding the method of payment. O'Donnell Boutique is not responsible for delays in customs clearance. 

Standard shipping costs are charged by O'Donnell Boutique based on location and we do not apply additional charges based on amount of items purchased. 
 
| | | |
| --- | --- | --- |
| Country | Standard Price | Time |
| Ireland | FREE | Please allow 5 - 7 working days |
| Europe  | €15 | Please allow up to 10 working days |
| USA | €20 | Please allow up to 10 working days |
| Rest of World | €20 | Please allow up to 10 working days |
| | | |