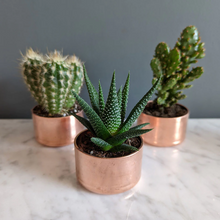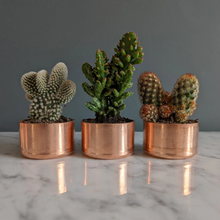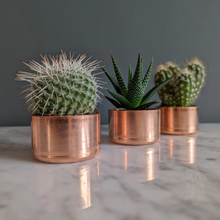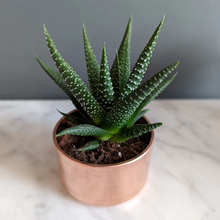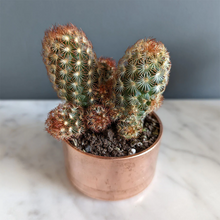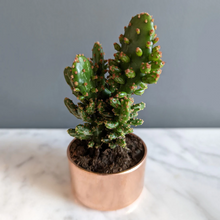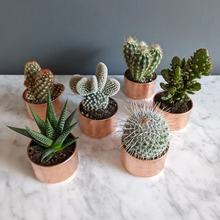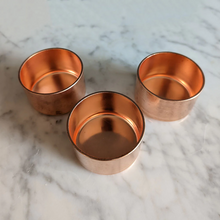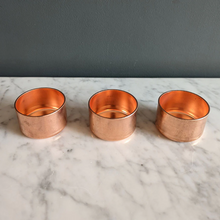 A beautiful solid copper planter. These are plumbing fitting that have been adapted as planters for small cacti and succulents. These planters are industrial in design and would be a perfect addition to any industrial themed decor. The copper is hand polished to a natural finish that will age and develop character over time. They come with a small cacti or succulent at random from whats available at the time! Sold individually!

Specification
54mm copper fitting. Cactus or succulent included!

Measurements:
54mm in diameter
35mm high
Plant Care
Cacti and succulents are easy care, drought tolerant plants. They store water in the fleshy tissues of their stems, roots or leaves. The most common killer of cacti and succulents is over-watering! Wait until the soil is dry to apply a few more drops of water, if in doubt, don't water! Water every 1-2 weeks in summer and reduce to every 3-4 weeks in winter.
Try not to place copper planter in direct sunlight as the copper is conductive and will heat up which may damage the roots if left for prolonged periods, A quiet spot in indirect sunlight is ideal!
O'Donnell Boutique aim to handle all online orders as quickly and efficiently as possible. However, please note that some orders may take longer than others as we do not ship on Saturdays, Sundays, or holidays. 

We reserve the right to delay shipment for 2 days for security reasons. We also reserve the right to cancel orders without any explanation if there is suspicion of fraudulent activity surrounding the method of payment. O'Donnell Boutique is not responsible for delays in customs clearance. 

Standard shipping costs are charged by O'Donnell Boutique based on location and we do not apply additional charges based on amount of items purchased. 
 
| | | |
| --- | --- | --- |
| Country | Standard Price | Time |
| Ireland | FREE | Please allow 5 - 7 working days |
| Europe  | €15 | Please allow up to 10 working days |
| USA | €20 | Please allow up to 10 working days |
| Rest of World | €20 | Please allow up to 10 working days |
| | | |