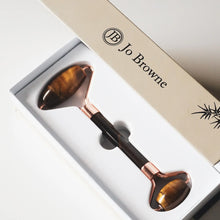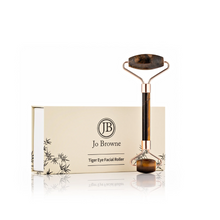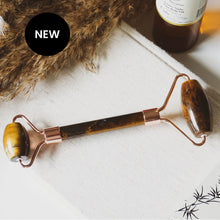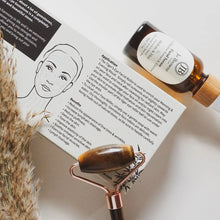 You may know about a lot of gemstones, but Tiger Eye Gemstone is a completely different and beautiful stone.
It attracts harmony in life and is an extremely protective stone giving you strength and courage and allowing you to make decisions, It helps ground you and bring out your creativity.
Benefits
Reduce the appearance of fine lines & wrinkles.
Increase lymphatic drainage.
Reduce puffiness.
Detox the skin.
Tone the skin.
Improve elasticity of the skin.
Soothe irritated sensitive skin.
Exercise facial muscles.
Lymph Drainage
Ingredients
Application: The Tiger's Eye Facial Roller is used to enrich your Morning & Evening Rituals. Simply roll outwards and slightly upwards on your face and neck after cleansing for radiant skin. May also be used to massage your face oil and/or night cream into your skin promoting deep hydration and skin rejuvenation. Use the gemstone roller ball for the smaller parts of your face.
To clean your Face Roller, simply use a gentle soap with warm water. Dry thoroughly. Gemstone face rollers are delicate, being made out of natural stone, so be sure to handle them carefully. 
If your gemstone has been busy it might need a boost with a recharge. A day in the sun would do it and so would a night out under the full moon.
O'Donnell Boutique aim to handle all online orders as quickly and efficiently as possible. However, please note that some orders may take longer than others as we do not ship on Saturdays, Sundays, or holidays. 

We reserve the right to delay shipment for 2 days for security reasons. We also reserve the right to cancel orders without any explanation if there is suspicion of fraudulent activity surrounding the method of payment. O'Donnell Boutique is not responsible for delays in customs clearance. 

Standard shipping costs are charged by O'Donnell Boutique based on location and we do not apply additional charges based on amount of items purchased. 
 
| | | |
| --- | --- | --- |
| Country | Standard Price | Time |
| Ireland | FREE | Please allow 5 - 7 working days |
| Europe  | €15 | Please allow up to 10 working days |
| USA | €20 | Please allow up to 10 working days |
| Rest of World | €20 | Please allow up to 10 working days |
| | | |